Kip's Supervisory Services
The Path to A Successful Internship For the Next Generation of Counselors Who Want to Work With Athletes!
So you're looking for a supervisor & mentor in sports psychology? I have two quick questions for you:
Are you seeking your licensure as a counselor?
Do you want to work with athletes?
If yes, then read on.
If no to either one of those questions, then I am not the supervisor & mentor for you.
Where to Start:
Right now, you may not know what to ask or if the supervisor-candidate(s) really have your best interests at heart. What you do know is that you must find a Supervisor before you can get a job and begin acquiring the 3000 hours needed to become fully licensed.
A few years ago, I met Kathleen Mills and Phillip Crum of PracticeMentors.us and I am now associated with their counselor education efforts.  Practice Mentors includes an "The Academy" teaching counseling supervisors in all facets of running a private practice so we become better mentors to you!
I am always interviewing potential associates who are interested in sport psychology AND pursuing a counseling license.
Keep in mind, there are two groups of Supervisors you may encounter:
Those primarily in it to give back and mentor the next generations' professional aspirations, and...
Those in it for the money.
If your plans include finding the cheapest possible mentor (supervisor) then need to stop right now and look elsewhere. I belong firmly in the first group, as does anyone I might recommend to you.
Finding Supervisors to Interview
There is no public list of outstanding Supervisors. You need a handful of top supervisor candidates who are accepting new associates in your area, OR Supervisors who know other top-tier supervisor candidates taking on new supervisees.
Don't Settle for the First Supervisor You Interview
I highly recommend you interview with several recommended supervisor-candidates. Pick the one who offers the best curriculum for your future, one you feel comfortable working with, and can pay him/her their fee. Now is NOT the time to pinch pennies; we are talking about your career and your financial earning power for the rest of your life! This is a huge decision.
Supervisors are not obligated to do what we do. We choose to do this for the next generation because we want to and we sacrifice a lot of things and put ourselves at legal risk to do so. We could easily make more money seeing clients in the hours we spend working with our associates.
How to Interview with These Supervisor-Candidates
These are two-way interviews. You are looking to see if they would make a good mentor for you on both professional and personal levels, and they are looking for "the consummate student".
If we choose to work together, here is what you would be expected to study and learn with me: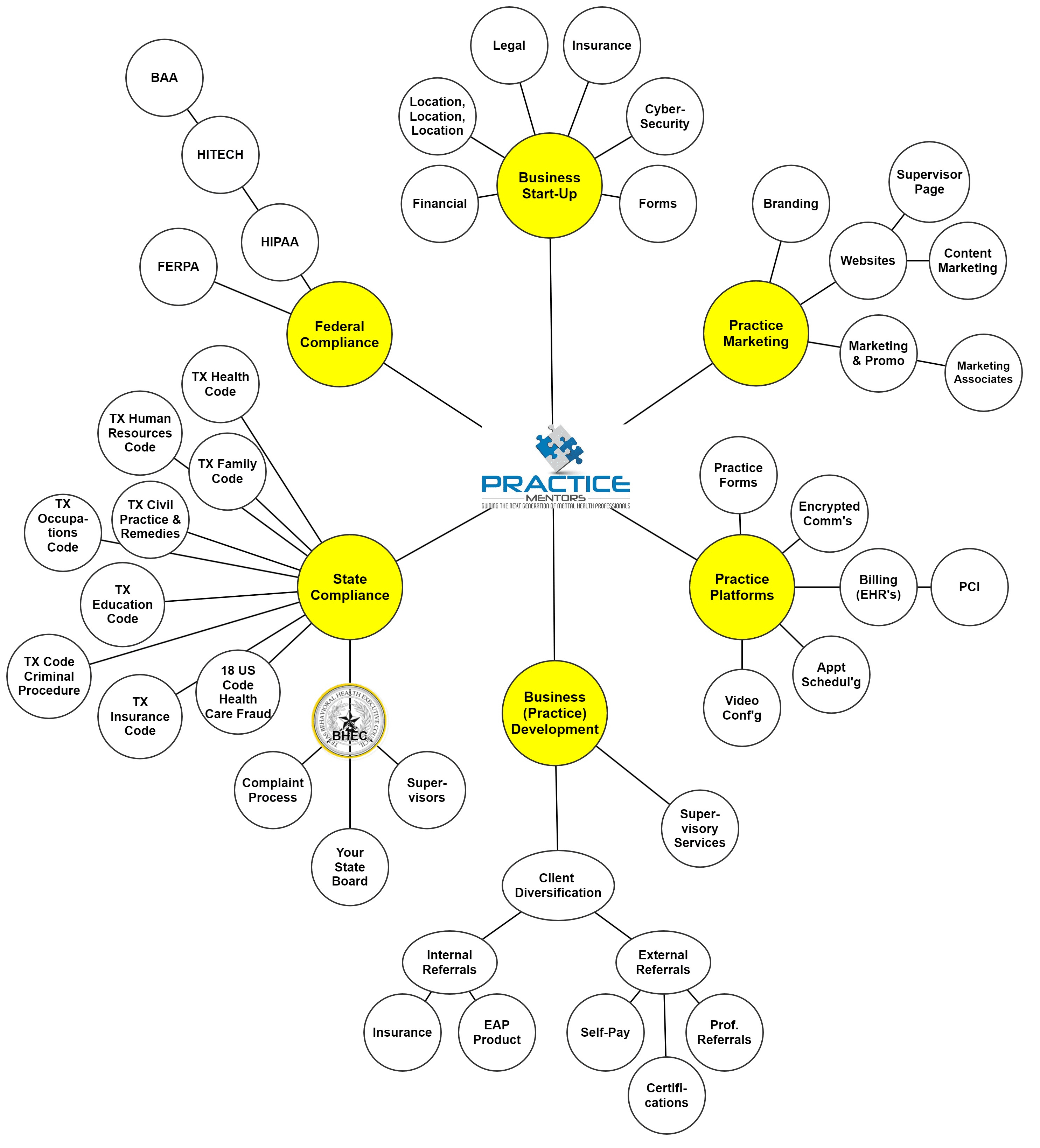 Plus, What It Means to Be A Counselor & Sports Psychology Professional
[  ] Basics of Internship-A Proper Framework
[  ] The Fundamentals of Professionalism
[  ] Overcoming Stigmas About Our Profession
[  ] Clinical Training/Supervision
[  ] Therapeutic Issues/Mental Performance Training
[  ] NeuroSport Assessment Process
Interview Your Supervisor Candidates with This Checklist
We suggest you hop on over to PracticeMentors.us, subscribe, then download and use the list put together for you as your personal interview check-list when interviewing your Supervisor-Candidates.
On Being Interviewed
Finding the right interns who fit our company environment remains vital. For example, here are three things I look for and require in/from my students and interns:
Accountability-Able to make self-corrections along the way
Ambition-Must be self-motivated & a go-getter
Resourcefulness-Willing to learn about the real world of the counseling & sports psychology profession
When being interviewed it is always best to present yourself already thoughtfully considering the important questions about your interests and your future. Download this list of questions, craft your responses to them and vocalize them out loud several times so they sound natural to your ear. Do NOT try and memorize them.
It should go without saying – you need to display good appointment etiquette; clean up and look professional; show up a few minutes early; bring something to write with and something to write on; display a good, firm handshake; and always make good eye contact. Decline food and drink if offered.
What Separates You from the Other Interns?
Only your ability to professionally tell your story to others. This is where you will begin to separate yourself from the rest of the pack. It is called being vulnerable with your story.
We are going to begin the process of crafting your story as it pertains to why you have chosen to be a counselor who works with athletes. People do not care what you do, rather, they want to know what makes you tick…your 'why'…your story.
Spend some time with these thoughts:
What do I want to accomplish? (Be Specific)
What does it look like? (Be Specific)
What am I willing to do to get to where I say I want to go? (Be Honest)
How come I want to be a therapist who works with high performers? (Your 'why')
Give me a call if you have any questions at: 214-543-4108. NO emails, please. I look forward to speaking with you soon.
Anne 'Kip' Rodgers Watson, MA, LPC-S, CHPC
Oh, scroll down just a little bit further for that supervisor list I promised you.
Here's the List of Supervisors I Recommend
If you'll click the logo to the left, or this link, you'll be shown a list of supervisors that have completed various levels of education with us. There's more detail on that page but each supervisor represented has a link directly to a page on their website specifically addressed to you! If you encounter any issues or have any questions, please feel free to shoot Phillip an email at:  pcrum@practicementors.us and he will respond. Good luck!
Every day, I read the headlines about athletes who struggle and end up making poor choices. Memorable headlines include Junior Seau and Johnny Manziel. Recent headlines include the horrific abuse in USA Gymnastics and the suicide of a D1 quarterback at Washington State.
The banners I read show athletes get arrested, released, benched, sustain career-ending injuries, and get taken advantage of by others. And, on occasion, an athlete makes the drastic choice to take their life leaving behind stunned teammates, family, friends, and fans.
This drives me. It wakes me up every day with purpose. Why? At 15, I was one of those athletes contemplating suicide...